Our Commitment to our Community
We are a team dedicated to developing our community through the sport and culture of Muay Thai. We believe in building a strong foundation that will have a positive affect for years to come.
The Force of A Team - Working together to create positive changes
Our Trainers
Mikey Perez
Head Instructor
"Do what others won't do today so you can have what they won't have tomorrow" - Les Brown
Qualifications
Poo Choi Kru 2008, Kru 2009, Kru Yai 2010, Sr. Kru Yai 2014, IFMA Judge & Referee 2012, TBA-SA Featherweight Champion 2009, CMTC-A Featherweight Champion 2009, IFMA Gold Medalist 2009, IKF Bantamweight Champion 2011
Speciality
Workshops, Seminars, Program development, Personal Training, Competitve Training, Promotion and Team building training

Bruce Ong
Instructor
If you can dream it, you can achieve it.
Qualifications
Poo Choi Kru 2010, Kru 2012, IFMA Judge & Referee 2012, TBA-SA 2010 Lightweight Champion
Speciality
Personal training, Pad holding, Kids class, beginners and advanced kids training

Matthew Perez
Boxing
Technique over power, be like water my friend.
Qualifications
Poo Choi Kru 2009, Kru 2015
Speciality
Boxing, personal training, athlete development, outreach programs and Bull style

Matthew Mendoza
Beginner Muay Thai
Give 100% everyday and you will see results. No days off.
Qualifications
Poo Choi Kru 2012, TBA-SA 2013 Featherweight Champion
Speciality
Group training, personal training, All levels classes, pad holding

Jon Canival
Strength & Conditioning
Hard work beats talent when talent fails to work hard
Qualifications
Muay Thai trainer for over 5 years. Competed in a long list of events and tournaments in North America. Turned attention to specialize in strength and conditioning for Muay Thai athletes.
Speciality
Strength and power building, conditioning for competiteve and recreational athletes. Personal pad holding and boxing mits training

Derek Dorland
Senior Instuctor
Hard work and dedication is a good recipe for success
Qualifications
Training Muay Thai for over 6 years
2013 TBA-SA Junior Lightweight champion
Specializing in Muay Thai classes of all levels.
Speciality
Muay Thai pad holding and beginner and all levels classes. Personal pad holding and skill development

Ferb M
Junior Instructor
Do what you love and love what you do
Qualifications
Poo Choi Kru 2016
2016 MTC Junior Provincial Champion 118 lbs
Speciality
Kids classes and beginner classes. Personal pad holding and strength training

Chris Stonehouse
Introduction to Muay Thai, Kids class
Life is like chess but only in the theatre - Shakespeare
Qualifications
Poo Choi Kru 2016,
2016 TBA-SA Junior Bantamweight champion
Speciality
Introduction and beginner Muay Thai classes, working with new students and holding pads.

Fatin Jilal
Junior Instructor
For every action there is a reaction equal and opposite in direction - Newton
Qualifications
Poo Choi Kru 2017
2016 MTC National Champion Strawweight division
Speciality
Introduction classes, mixed classes and kids classes.

Lionel Cox
Personal Trainer
Redefine yourself everyday to see a true transformation.
Qualifications
Poo Choi Kru 2017
Muay Thai training for over 6 years
Speciality
Skill development and explosive movement. Power and strength training for athletes. Motivating and empowering trainer.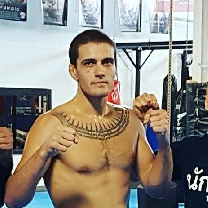 Evan Perrier
Personal Trainer
Muay Thai training over 4 years
Trained and travelled in Thailand Competed Provincially and Internationally
Multiple Jujitsu champion
Qualifications
Poo Choi Kru 2017,
2017 MTC Bronze Medalist
2017 TBA-SA Semi finalist
Speciality
Personal Training and Pad holder for all experience and skill levels. Emphasis on technique and traditional Muay Thai.
Why Join ?
Try a FREE TRIAL class today!
Take advantage of your free trial class to enjoy the health benefits of training and to get into the best shape of your life!
Personals ?
Pad Holders & Trainers just for you
Are you interested in simple but effective One on One training?
Our goal is to offer a service in Muay Thai training far from the ordinary and, to that end, you can expect our team to provide gracious, unwavering attention to your every need for the best training you can possibly attain here in the Greater Toronto Area. From our elite and experienced trainers to our world class amatuer competition team and more, we take great pride in providing lasting memories while taking your personal growth and empowerment to heights you never imagined were attainable. We're commited to making your experience in Muay Thai everything you imagined about and more. If there is anything that we can do to enhance your experience, please don't hesitate to contact our team.
Michael PerezProgram Director